Le Domaine de Bancel
Montpezat – Gard (30)
"Le Domaine de Bancel", half‐way between Nîmes and Sommières, has 14 serviced plots with exceptional views over the entire Gard plain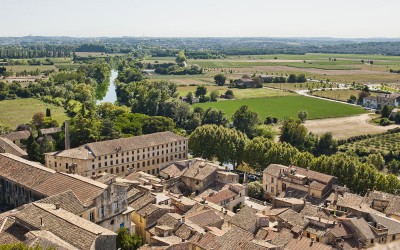 An authentic way of life in Sommières
Between Cévennes and Camargue, 10 minutes from Nîmes and Sommières, the village of Montpezat enjoys an exceptional location.
Montpezat, a former medieval stronghold, boasts a rich and varied landscape with vineyards and scrubland, a pleasant pace, a warm climate with 300 days of sunshine a year, architectural treasures and markets with the flavours and aromas of the south of France.
Our available plots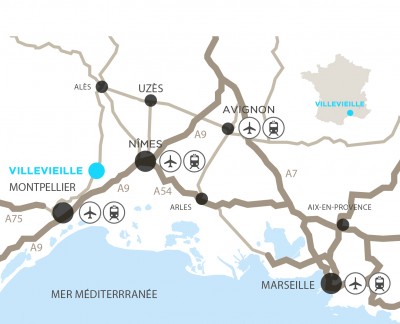 Main distances
Montpellier ‐ 45min
Nîmes ‐ 40min
Beaches – 40min
Amenities
Local shops
Supermarkets in Sommières and Villevieille Schools
Primary schools in the village
Secondary school in Sommières: 12 km
Secondary school in Nîmes: 19 km
Pays de Sommières: the exceptional surroundings of Gard Provençal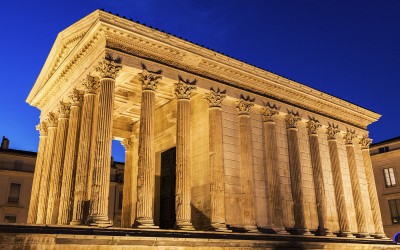 Not to be missed in Gard
The legacy of the Romans: the amphitheatres, the Jardins de la Fontaine, the Maison Carré Roman temple in Nîmes and the famous Pont du Gard aqueduct...
Breathtaking splendours: Cévennes National Park, an oxygen bubble of greenery in Gard, the Bamboo Park in Anduze, the Gardon Gorges, the Sautadet waterfalls...
Picturesque beauty that defies time: four of France's Most Beautiful Villages (Aiguèze, Montclus, La Roque‐sur‐Cèze, Lussan), three Villages of Character (Barjac, Lussan, Vézénobres), 3 Towns of Art and History (Nîmes, Uzès, Beaucaire),
Exceptional UNESCO World Heritage sights: the Pont du Gard aqueduct, Saint‐Gilles Abbey and the beautiful landscapes of Les Causses and Cévennes.
The last beach resort before the horizon: Le Grau‐du‐Roi, Port Camargue, the number 1 marina in Europe,
The highest point in Gard: Mont Aigoual, a family‐oriented ski resort and the highest inhabited observatory in France.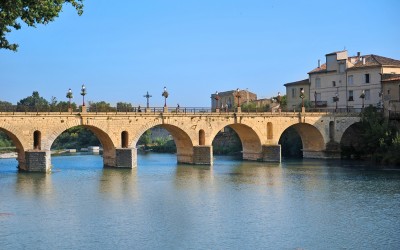 Pays de Sommières
Between the Mediterranean and Cévennes, Sommières represented the crossroads of trade and communication through the centuries and is today a medieval city that has managed to preserve its authenticity. Over the centuries it developed through its famous fairs and the weekly market during medieval times.
A real gem, Sommières' heritage is appreciated for its authenticity. Medieval ruins, Roman bridges, Romanesque churches, charming villages with narrow streets and shady squares... Monuments and destinations that are just waiting just for you.
Architectural delights, the inhabited bridge, its château and private mansions testify to a very rich past and contribute to Sommières appeal. They make it a singular, very attractive town where life is dynamic and very pleasant. This history of Sommières is full and fascinating. The Middle Ages and other periods in history are relived in a historic journey through its narrow streets and squares.